You can read
some important articles

about

Contemporary Mosaic

of artist

Lady Be

.
Lady Be a Linea Verde Life
Lady Be a Striscia la Notizia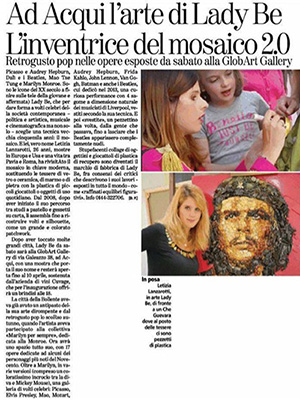 Italian Daily Newspaper "La Stampa" - March 15th
This article was about the Solo Exhibition at the Globart Gallery in Acqui Terme (AL) on March 19 th 2016

In Acqui, the Art of Lady Be, the inventor of Mosaic 2.0
Posing Letizia Lanzarotti, aka Lady Be, in front of a Che Guevara where instead of mosaic tiles, there are pieces of plastic. Audrey Hepburn and Picasso, Dali and the Beatles, Marilyn Monroe and Mao Tse Tung. Are the icons of the twentieth century to finish on the canvases of young and established) Lady Be that to shape famous faces of contemporary society - politics and art, music and film but not only - an old technique chooses five thousand years: the mosaic. And her real name Lanzarotti Letizia, 26, shows in Europe and the US and a life between Pavia and Rome, has revisited in a modern mosaic, replacing the glass or ceramic tiles, marble or stone with plastic small toys or everyday items. Since 2008, after starting his career in pastel studies and chalks on paper, assembles them to reconstruct faces and silhouettes, as a large and colorful patchwork. After hitting many big cities, Lady Be Saturday will be the GlobArt Gallery in Via Galeazzo 38, Acqui, with an exhibition that bears his name and will remain open until April 10, supported by the company cuvage wines, which for the 'inauguration will offer a toast to 18. The city of Boiling had already had a starter of his revolutionary movement and the pop aftertaste last fall, when the artist had participated in the collective "Marilyn Forever", dedicated to Monroe. He will now have its own space, with 17 works dedicated to some of the best-known figures of the twentieth century. In addition to Marilyn, in various versions (including a colorful cross between the diva and Mickey Mouse), a gallery of famous faces: Picasso, Elvis Presley, Mao, Mozart, Audrey Hepburn, Frida Kahlo, John Lennon, Van Gogh, Batman and even the Beatles, which he dedicated in 2013, a curious performance with four life-size silhouettes of Liverpool musicians, dressed according to his technique. And then, "undress" a small piece at a time, from people passing by, up to let the Beatles appeared completely naked. Narcotics trinkets collage and recycled plastic toys have become the trademark of Lady Be factory, between the critical acclaim that describe his works - on display around the world - as "figurative fine balance." 0144-322706 info. [Dp]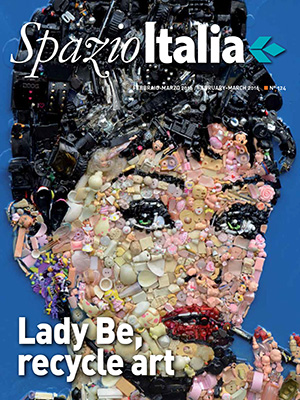 SPAZIO ITALIA
Magazine on Aircraft of the company Air Dolomit

. Cover and Dossier on Spazio Italia, very important magazine on Aircraft of the company Air Dolomiti, partner of Lufthansa. Cover and article.

SEE THE ARTICLE
POP ART & LADY BE
Last year ended with two in- ternational events that shot the theme of eco-sustainability to the centre of the world stage. One was the World Expo in Milan and the other was the World Conference on Climate Change held in mid-December in Pa- ris. So how do these two events link into art, and in particular into pop-art? The answer is through a young Italian artist, Lady Be, who travels the world proclaiming her message on the use of recycled materials. Spazio Italia interviewed this stimu- lating emerging talent. "I live and work between Dorno, near Pavia, and Rome, where I'm currently based. Pop culture? Well that's been a passion ever since I was very young" explains Lady Be. "After studying art at high school and then graduating from the Academy of Fine Arts I plumped on recycled materials as a means of artistic expression, and I use them in their original colours, which is probably my work's distinguishing feature. I make "contemporary mosaics" from fragments of various ma- terials, which would otherwise just get thrown away. And Lady Be doesn't merely create her works, which include installations, because mingling and interacting with the public at her exhibitions in unstructu- red "happenings" is a vital form of creative inspiration for this young artist. "It's something I really enjoy doing. I put on one of my most unusual performan- ces a couple of years ago, when I asked everybody to help take all the external bits off one of the installations, leaving the subjects completely naked. My artistic career really took off in 2014, when I took part in two landmark exhibitions, one in New York and the other at the Eiffel Tower in Paris. But of course the public can also in- teract with me by contributing materials for my works, things they don't need any more. And you get a personal parchment from me certifying you have con- tributed to the work". One way of becoming a pop artist at a distance.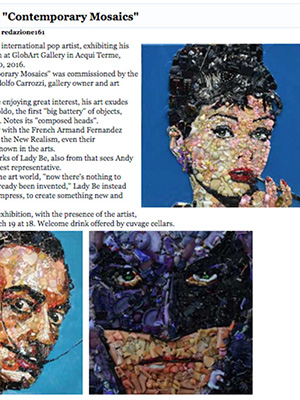 L'Ancora
Italian weekly newspaper.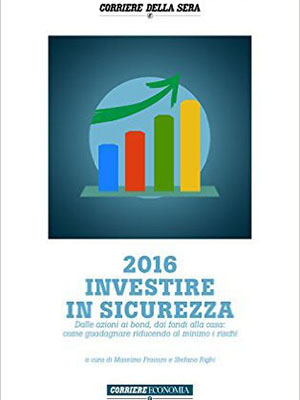 2016 INVESTIRE IN SICUREZZA
Corriere Economia. An important national annual dossier about the best investments of the year edited by "Corriere della Sera", the most famous italian daily newspaper, the name of Lady Be was together with other 232 selected italian artist on which to invest on.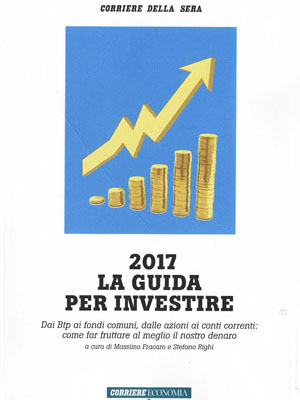 COME INVESTIRE NEL 2017
Corriere Economia. An important national annual dossier about the best investments of the year edited by "Corriere della Sera", the most famous italian daily newspaper, the name of Lady Be was together with other selected italian artist on which to invest on. Quotations between € 2000 and 5000
Il Piccolo
Italian weekly newspaper.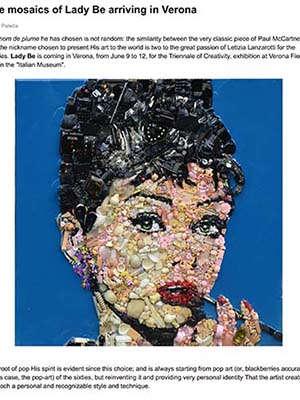 Artslife
Italian Art Contemporary online newspaper